Hi there! If your microwave oven isn't working the way it should, don't worry.
I'm here to help you troubleshoot some of the most common problems and get your appliance back up and running in no time.
With a few simple steps, you'll be able to easily identify what's wrong with your microwave oven and how to fix it quickly and safely.
Let's get started!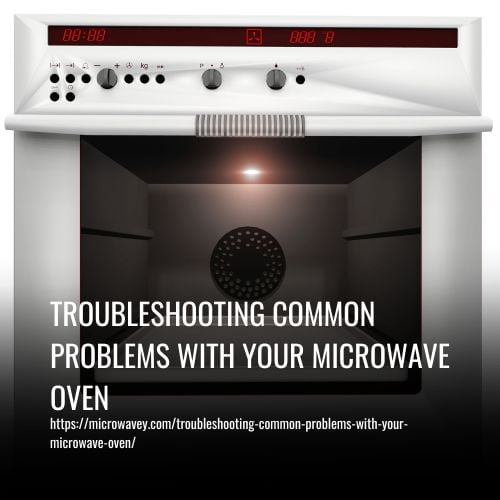 No Power
When it comes to troubleshooting any appliance, the golden rule is: check for the obvious before delving too deep.
So if your microwave oven isn't powering up at all, first make sure there's no power outage in the area or that a fuse hasn't blown out due to faulty wiring.
It might sound like common sense but these simple steps can save you time and money when trying to diagnose an issue with your beloved kitchen companion.
If neither of those are the cause of your problem then it may be worth checking the outlet itself as well as making sure the cord is plugged into both the wall and machine securely.
If none of these examinations have yielded a solution then you'll need to look further into possible internal issues such as malfunctioning circuit boards or loose connections within its components.
Be sure to consult with a professional technician if this is indeed what you find yourself needing!
Not Heating Properly
If your microwave oven is not heating properly, there are a few things to look for before seeking professional assistance.
First, check the ventilation of the appliance. If the vent has been blocked or clogged in any way it can affect how quickly and evenly food is cooked.
Additionally, make sure you're using recommended cooking times as outlined by the manufacturer. Using incorrect times could result in unevenly cooked food that isn't heated thoroughly enough.
Finally, be aware of what type of dishware you're using while cooking with a microwave oven. Heavy duty pans and dishes may require more time than suggested on packaging – this is especially important if you are reheating leftovers.
Be sure to always check your food after it's finished cooking regardless of the cook time used so that you don't end up overcooking your meal!
Display Not Working
It's estimated that nearly 20 million households in the US rely on microwave ovens to help with meal prep and more. If you're one of them, it can be a huge inconvenience when your display isn't working properly.
Common problems include interior dimming or flickering light, which are usually caused by defective parts. Fortunately, these issues can typically be resolved without having to purchase a new appliance.
Generally speaking, these types of repairs require replacing components such as capacitors or fuses, so you'll likely need an experienced technician for the job. The good news is most technicians have access to original manufacturer parts designed specifically for your model, ensuring long-term results from the repair.
So if your microwave display is giving you trouble, don't panic – just call an expert!
Strange Noises
Now that we've figured out the display issue, let's move on to strange noises.
If you're hearing intermittent buzzing or a burnt smell coming from your microwave oven, it is likely due to an electrical fault or malfunctioning fan motor.
Here are four things to look for when troubleshooting this type of problem:
Check if there's any wiring loose inside the appliance and make sure all connections are secure.
Inspect the fan motor and see if it needs cleaning or replacing.
Make sure the turntable plate is in place and not blocking the fan blades.
Clean away any debris from around the fan blade area.
If these steps don't help solve the issue, then it may be time to call a professional technician for further assistance with repairing your microwave oven.
Door Not Closing Properly
If your microwave oven door is not closing properly, it could be due to a few factors. Loose hinges and/or worn latch are two common causes of this issue. To diagnose the problem, I recommend inspecting both the hinges and latch on the door.
The following table can help you compare these two issues:
Issue
Symptoms
Solution
Loose Hinges
Door falls open when opened or closed quickly
Door frame pulls away from body when pressure is applied
Tighten screws with appropriate tool (e.g., Phillips screwdriver)
Replace parts if necessary
Worn Latch
Plastic pieces around latch may appear cracked or broken
Latch does not secure itself in place when pressed shut
Replace plastic components with new ones
Repair existing latch if possible
Inspecting for loose hinges or a worn latch should take only a few minutes and will provide clarity as to what needs to be done next. Depending on the severity of either issue, repair may require replacing one or more components. If replacement is needed, make sure to purchase compatible parts that match your model number!
Turntable Not Turning
Just as a solid door needs to close tightly in order for it to remain secure, so too does the microwave need its door to be firmly shut in order for it to work properly.
Much like a ship navigating through an ocean of problems, when a microwave's door is jammed or isn't shutting correctly, we must take steps towards ensuring the problem will soon be solved.
When troubleshooting turntable issues that may lead to uneven cooking results due to improper rotation, one should check:
The tray itself for any obstructions such as food particles
Check if the roller guide underneath the tray has become loose or misaligned over time
Ensure that nothing else inside the oven is blocking the movement of the tray.
It's important to remember that these common problems can usually be fixed without having to replace certain parts and by following some simple guidelines you can make sure your microwave runs smoothly again in no time!
Overheating
When your microwave oven is overheating, it could be because of ventilation issues.
To begin troubleshooting these problems, check the vents on the top and sides of the unit to ensure they are clear and unobstructed. Make sure nothing is blocking air flow into or out of the appliance. If there's an obstruction causing poor airflow, remove it and make sure that you keep all vents unblocked in future.
If the problem persists after checking for blockages, then you may need to inspect the heating elements inside the appliance. If a heating element has burnt out due to age or excessive use, this can cause overheating as well.
You'll want to test each one individually with a multimeter before replacing them – if only one needs to be replaced, that will save time and money! Once you've identified any faulty parts, replace them with genuine manufacturer-approved replacements for best results.
Sparks Or Smoke
Moving on from the previous section about overheating, let's talk about another issue that can arise with microwaves – sparks or smoke.
If you notice any arcing sparks or a burning smell coming out of your microwave oven, it is time to take action. The most likely cause of this problem is burnt food in the appliance cavity, so start by checking if there are any charred remnants inside and remove them.
Additionally, ensure that all metal utensils have been removed as they may be creating sparks when heated up. Finally, check whether any liquids have spilled into the device cavity as these can lead to sparking and smoking too.
If none of these apply then it might be an indication that something else is going wrong internally; either way make sure to contact a professional technician for help before attempting repairs yourself.
As always, unplugging the unit before doing anything else will prevent further damage due to electrical shock hazards.
Sparks Or Smoke Coming From The Vent
If you've ever noticed sparks or smoke coming from the vents of your microwave oven, it's time to take action. This is a potentially hazardous situation and should not be ignored.
I've seen this issue countless times in my years as an appliance repair technician, and usually it's caused by faulty wiring or a broken switch. The first thing to do is unplug the microwave from its power source and make sure all wires are disconnected from any outlets.
Once that's done, open up the back panel of the unit to access the wiring. From there, look for signs of damage such as loose connections or frayed insulation. If something looks off, carefully remove and replace any damaged components with new parts specifically made for your model of microwave oven. Also check if any switches have come loose—the presence of a faulty switch can cause sparks and smoke.
Once everything has been checked thoroughly and repaired if necessary, put the back panel on again and plug your microwave oven back into its power source – making sure all safety procedures were followed correctly during inspection. With these steps taken, you can rest assured knowing that your family will now enjoy safe meals without worry!
Unusual Odors
When dealing with unusual odors coming from your microwave oven, the most likely explanation is a buildup of chemicals. This can be caused by using different cleaners and sprays over time that have accumulated on the surfaces of your appliance.
In order to remedy this issue, it's important to do a thorough cleaning inside and out of the unit, as well as give special attention to any vents or filters that may need to be cleaned. If you don't feel comfortable doing this yourself then I'd recommend getting a professional in for an inspection and vent cleaning if necessary.
It's always better to get ahead of these issues before they become bigger problems down the road!
Frequently Asked Questions
What Type Of Wattage Does My Microwave Oven Need To Operate Properly?
When it comes to troubleshooting common problems with your microwave oven, one of the most important questions you need to ask is what type of wattage does my microwave oven need to operate properly?
As a technician, I typically recommend that customers look for power ratings in the owner's manual. This will give them an idea of their appliance's wattage selection and they can then ensure that it has enough power or capacity for their needs.
For example, if someone was using a large bowl or plate requiring more cooking time than usual, they would want higher wattage so that the food cooks efficiently without burning it.
To make sure everything works correctly, always check the rating on your microwave before plugging it in and using it – this could save you a lot of headaches later!
How Often Should I Clean The Interior Of My Microwave Oven?
You should clean the interior of your microwave oven at regular intervals. Depending on how often you use it, a good rule of thumb is to give it a thorough cleaning once every two months or so.
This will help keep your appliance in good working order and prevent any potential problems from arising due to buildup of food particles or grease.
When cleaning, make sure you have the right supplies – a damp cloth for wiping down surfaces and maybe some mild soap for tougher areas. Doing this regularly can go a long way towards keeping your microwave oven running smoothly!
How Do I Use The Various Settings On My Microwave Oven?
When it comes to using the various settings on your microwave oven, you'll want to be sure that you know what they are and how they work.
Different cooking methods require different amounts of time and energy, so understanding each setting is key.
For example, defrost settings allow for gentle thawing of frozen items without over-cooking them.
Additionally, some microwaves offer a combination setting which is perfect for when you need something cooked quickly but still requires delicate care.
Knowing all the settings available on your microwave oven will make it easier to use correctly and with confidence!
What Safety Precautions Should I Take When Using My Microwave Oven?
According to a recent survey, more than 70% of Americans don't take the necessary safety precautions when using their microwave ovens.
As an appliance repair technician, I'm here to remind you that taking certain measures like wearing gloves and being mindful of power consumption can help prevent any accidents or malfunctions from happening.
Additionally, it's important to clean your microwave with a detergent cleanser every few months in order to maintain its performance throughout use.
All these steps are crucial for avoiding common problems with your microwave oven and keeping you safe while operating it.
Is There Anything I Can Do To Extend The Life Of My Microwave Oven?
Preventive maintenance is key when it comes to extending the life of your microwave oven.
Taking some energy saving measures, such as using ceramic or glass cookware and avoiding high wattage settings can help prolong its use.
Additionally performing regular inspections on the door seal and making sure that no liquids are spilled inside the cavity can also make a big difference in how long your appliance operates properly.
Finally, never operate an empty oven since doing so could potentially damage internal components.
As a technician I would suggest adhering to these practices to ensure you get maximum use out of your microwave oven!
Conclusion
When it comes to microwave ovens, having a reliable and safe appliance is essential. As with any other electrical device, proper maintenance will ensure that your unit runs efficiently for many years to come.
According to the National Fire Protection Association, cooking equipment fires are responsible for 5% of all reported home fires in the United States each year. With this statistic in mind, it's important to always use caution when operating your microwave oven.
As a technician, I highly recommend taking some simple steps towards troubleshooting common problems such as checking wattage requirements and using settings correctly. Additionally, cleaning your interior regularly and following safety protocols can help extend the life of your microwave oven significantly.
Following these tips should keep you worry-free about potential dangers or malfunctions associated with your kitchen appliance!
Overall, keeping an eye on basic maintenance tasks can save you time and money dealing with unexpected issues down the line. It's my pleasure as a professional repairman to provide helpful advice on how to maintain your valuable microwaves so that they remain durable for many years to come!